Excitement Building for America's Premier Retail ATM Event!
No other event focuses 100% on the Independent/Retail ATM marketplace in the US...NAC2018 ATMs*Across*America is where the action is for ATM providers! Whether you are thinking about deploying ATMs, brand new to the ATM business, or an ATM industry veteran, this is the one event that provides you with the best and most current/relevant information - and the best bang for your buck...period end of story. Starting this Friday - August 10th - Take Advantage of our NAC2018 Sponsor-Customer Discount S-P-E-C-I-A-L P-R-I-C-I-N-G! FULL EVENT REGISTRATION - ONLY $345 for all Customers of our awesome NAC2018 Sponsors... If you do business with one of our NAC2018 Sponsor Companies, then YOU qualify for our LOWEST PRICE registration for this year's show!
| | |
| --- | --- |
| | |
Our special $345 Sponsor-Customer Discount pricing is All inclusive - providing full admission to ALL workshops, seminars, networking events (Receptions/Breakfasts/Lunch w/Headliner), ATM Security Academy III, and our unparalleled NAC2018 Expo Hall - with the leading Retail ATM Suppliers, Porducts and Services - all together under one roof for your viewing pleasure!
Flash Presentations for new products and services, insights into armored car services, key presentations from US Federal Reserve and US Secret Services, latest information on ATM BitCoin/Cryptocurrency opportunities, industry Town Hall open session, world-class entertainment...and so much more...all included with your full show pass...for only $345.
Three great hotel options - Bally's / Paris / Caesars - with special value pricing - area also available for NAC2018 Attendees - starting at only $129/night for newly renovated rooms at Bally's. MAKE YOUR PLANS TODAY - DO NOT DELAY - & WE'LL SEE YOU ON THE STRIP - IN OCTOBER - FOR AMERICA's #1 ATM EVENT OF THE YEAR!
INDUSTRY NEWS FLASH -
"ATMs Go to Washington" Initiative a Major Success
NAC Continues its Work to Stop the Rampant Bank
Account Blacklisting of ATM Companies
Contributions are Requested for Congressman Luetkemeyer's
Re-election Campaign - It's Time for Us to Step it Up!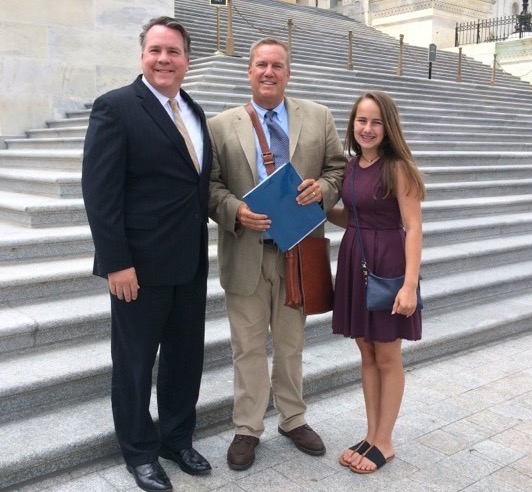 An open letter from NAC Chair George Sarantopoulos to the
U.S. Independent/Retail ATM Industry:
Dear NAC Members & Industry Friends:
We are just back from DC and I am excited to report that WE TOOK THE HILL!!!!
Given that bank account closures have exploded in recent weeks, there could have been no better time for this year's ATMs Go to Washington fly-in. Thankfully, our large NAC delegation from across the U.S. did a great job and was able to make a major impact in fighting this bank account blacklisting scourge for our industry.
Reflecting on this week's activities, I am proud to say that the U.S. Independent/Retail ATM Industry has, through our collective efforts to date, earned a place at the table and become a trusted industry resource in the Halls of Congress. Most importantly, from this week's Hill meetings, I am now optimistic that we are finally on a path that will lead to restored access to banking services for ATM companies nationwide.
This year's NAC DC delegation TOOK THE HILL in large numbers, with dozens of ATM providers and vendors flying in from across America to participate in over 30 meetings with key Congressional offices from the Senate Banking and House Financial Services Committees. These Committees have control over the issues that most affect our ATM businesses, and our collective future is to no small degree in their hands.
This year's fly-in culminated with a breakfast fundraiser for Congressman Blaine Luetkemeyer, Chair of the Financial Institutions and Consumer Credit Subcommittee in the House (see the invitation below). Chairman Luetkemeyer is viewed as one of the strongest and most effective leaders in Congress, and our industry is extremely fortunate to have his personal interest and support in addressing this "life or death" bank account blacklisting issue.
Chairman Luetkemeyer has already gone to bat for our industry on several occasions and we are now asking him to go to the mat for us to stop the bank account closures/denials. NOW MORE THAN EVER, this is why I AM ASKING ALL NAC MEMBERS AND OUR INDUSTRY FRIENDS who were unable to attend this week's special fundraising event to please make a contribution to our industry's top Champion in Congress - by sending in your personal check (no company checks are allowed) made out to "Blaine for Congress", as per the invitation shown below. If your resources will permit, we are asking for personal check donations of $500 per person. However, ANY AND ALL donations to Congressman Luetkemeyer's campaign will be gratefully accepted and appreciated (the number of checks indicates our unity as an industry, our strength in numbers, and our commitment to the business) - so NOW MORE THAN EVER please give generously and send your checks in promptly to NAC so they can be delivered timely to the Luetkemeyer campaign.
I am asking you to do this as a personal favor to me - and as an important step forward for our industry and all our ATM companies. THANK YOU for your help on this!!!
Please stay tuned as NAC continues to fight the good fight for America's Independent ATM providers & suppliers!!!
Sincerely,
George Sarantopoulos
President/CEO, Access One ATM
Board Chair, The National ATM Council, Inc.
---

Timothy W. Baxter, President of Dallas-based Swypco, LLC, and a founding director of The National ATM Council, Inc. (NAC), testified on behalf of NAC at a hearing scheduled February 15, 2018, before the Financial Institutions and Consumer Credit Subcommittee of the House Financial Services Committee.
---



NAC's Lobbying Gear Up with "ATMs Go to Washington" Event
The National ATM Council (NAC) has pronounced "ATMs Go to Washington" an unqualified success. Taking place July 17-18, the two-day "fly in" event saw dozens of ATM industry professionals conduct more than 30 meetings with policymakers and their staffs. The group met primarily with lawmakers from the Senate Banking and House Financial Services committees. Read More>>
Looking Back and Looking Ahead with NAC's Chair Emeritus Curt Selman
Curt Selman, of Selman Telecommunications Investment Group, is known among his peers in the ATM industry for his quick-witted sense of humor, straight forward manner, and clever anecdotes. Professionally, he's earned an enviable reputation for building ATM and vending routes throughout the Dallas Metroplex. Today his locations include a mix of hotels, convenience stores, sports venues, and independent retail outlets. Read More>>
---

---
Thank you to our NAC2018 Sponsors!
Platinum Sponsor
Gold
Silver
Bronze
Event Sponsors
Product
Media Sponsors